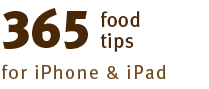 365 food tips for iPhone & iPad
365 food tips for every day of the year! For cooking experts and healthy food lovers. Learn many new secrets of cooking and storing food and spices! We will enrich your culinary book with a whole list of useful advice.
Get new tips and images every day and share them with friends on Twitter and Facebook.
Your favorite tips can be saved in "Favorites".
Impress your family and friends with new culinary ideas!
A great bridal shower gift!